Blog Archives
Kevin Hunter is the author of numerous spiritually based books attracting in loyal readers from all corners of the globe.  He is also a love expert, sage, and clairaudient, claircognizant, channeler residing along the coast of Southern California. 

Professional Bio:

Kevin Hunter is an author, love expert, and channeler.   The majority of his works are in the metaphysical genre.  His spiritually based empowerment and inspirational books include, Warrior of Light, Empowering Spirit Wisdom, Realm of the Wise One, Reaching for the Warrior Within, Darkness of Ego, Ignite Your Inner Life Force, Tarot Card Meanings, and Awaken Your Creative Spirit.
The warrior of light series of pocket books include, Spirit Guides and Angels, Soul Mates and Twin Flames, Divine Messages for Humanity, Raising Your Vibration, Connecting with the Archangels, Four Psychic Clair Sense, and The Seven Deadly Sins.
Kevin grew up in an abusive violent household, which propelled him downward into a sea of addictions to escape through alcohol, drugs, or anything else he could get his hands on. A lifelong sufferer of social anxiety and ADD, he managed to find the one positive thing that was always constant, which is a focused clear connection with his Spirit team on the other side. As a result, with their help he began writing out the many ways they've positively helped him throughout his life and how they can help those interested or ready for it. Kevin has been hailed to be a strong forceful wise one that is supremely direct. His divinely guided books are intended to inspire, enlighten, and empower those suffering or struggling in the physical world.
His others books include the dating handguide which is one half practical and one half spiritual, Love Party of One, the horror/drama, Paint the Silence, and the modern day trashy beach love story, Jagger's Revolution. His books tend to have a strong male protagonist where he tackles a variety of subjects.
Kevin has been featured and discussed in three books by best selling spiritual author, Doreen Virtue called, The Miracles of Archangel Gabriel, Angel Detox, and Living Pain Free.
Pre-Author Professional Bio:
Kevin began work in the entertainment field weeks after his 23rd birthday joining one of Hollywood's most respected actors at the height of her box office fame, Michelle Pfeiffer.   The sharp, film-literate worked as her development dude at her company, Via Rosa, where he read and provided coverage on potential projects searching for strong female driven characters-no victims.  He worked through the company's development and film productions of One Fine Day, A Thousand Acres, and The Deep End of the Ocean.
After a number of years, Pfeiffer dissolved her company, and Kevin made an immediate move into coordinating Film Productions for some of the major Hollywood studios.   With a strong work ethic, he continued to hammer his name into stone in the film industry working with some highly well known talent, producers, and directors while adding to a mounting list of production credits.
Some of his other film work credits includes Antonio Bandera's directorial debut of, Crazy in Alabama, Via Rosa's Original Sin with Angelina Jolie and Antonio Banderas, The Perfect Storm with George Clooney and Mark Wahlberg, Harry Potter and the Sorcerer's Stone, and Dr. Dolittle 2 with Eddie Murphy. He subsequently reunited with Pfeiffer's ex-producing partner, Kate Guinzburg, at her short-lived company with veteran Producer, Martin Bregman (Scarface, Serpico), to assist in bringing the Julia Stiles and Shirley MacLaine film Carolina through development and production.
After  years of working on back to back films, Kevin transitioned into work as an author as he entered his 30's and beyond.   He started out writing essays about love, dating, relationships, and sex before primarily becoming a spiritual author and teacher.

Empowerment, inspirational and self-help books by Kevin Hunter
are available in paperback and kindle wherever books are sold.
You are a conscious, thinking, feeling, soul light born out of love and having a physical human experience. You were intended to have a strong connection and communication line with Heaven. This gift is not a gift at all as it is a part of who you are already built into the core part of your soul.
My new set of Warrior of Light books are now available in paperback and e-book wherever books are sold. "Ignite Your Inner Life Force", "Awaken Your Creative Spirit", and "The Seven Deadly Sins". www.kevin-hunter.com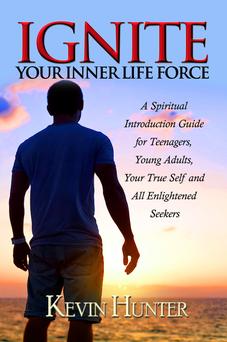 Ignite Your Inner Life Force
A Spiritual Introduction Guide for Teenagers,
Young Adults, Your True Self and All Enlightened Seekers
Ignite Your Inner Life Force is an introduction guide for teens, young adults, and anyone seeking answers, messages, and guidance surrounding spiritual empowerment. This is from understanding what Heaven, the soul, and spiritual beings are to knowing when you are connecting with your Spirit team of Guides and Angels.
Some of the topics covered are communicating with Heaven, working with your Spirit team, what your higher self is, your life purpose and soul contract, what the ego is, love and relationships, your vibration energy, shifting your consciousness and thinking for yourself even when you stand alone. This is an in-depth primer manual offering you foundation as you find a higher purpose navigating through your personal journey in today's modern day practical world.
"Ignite Your Inner Life Force" includes Spirit Guides and Angels, Communicating with Heaven, Working with your Spirit Team, The Earthly Birth, The Soul and the Spirit, The Significance of Spirituality, The Higher Self, Life Purpose and Soul Contract, Darkness of Ego, Love and Relationships, Raising Your Vibration, Cutting the Cords and Grounding, Identifying Blocks, The Shift in Consciousness, Thinking For Yourself Even If You Stand Alone, and My Near Death Experience.
Amazon
Barnes & Nobles
Apple iTunes
Google Play
Buy Now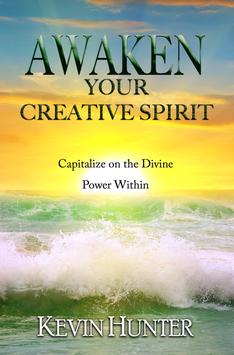 Awaken Your Creative Spirit
Capitalize On the Divine Power Within
Your creative spirit is present when you experience positive energy flowing through you. This energy is ignited when you make a direct connection with God. This vibration state is where you have access to the true you, which is your higher self. Your higher self rules when you work to strip, reduce, or dissolve any negative tampering influenced by a domination of your physical surroundings. Make a connection with something greater than yourself and allow that energy Light to permeate your soul and cleanse it of toxic debris. This will assist in the process of awakening your creative spirit from slumber.
Your creative spirit is more than being artistic and getting involved in creativity pursuits, although this is a good part of it. When your creative spirit is activated by a high vibration state of being, then this is the space you create from. You can apply this to your dealings in life, your creative and artistic endeavors, and to having a greater communication line with your Spirit team on the Other Side.
Your creative spirit brings your soul into a high vibration state of being because coming from a place of creativity raises your vibration. This is the zone where you create and manifest your visions at higher levels from, while simultaneously moving you into the joy of your life. It is thinking like a kid, unleashing your inner artist, and realizing your soul's potential. When you claim your celestial power with the assistance of your heavenly helpers by your side on your Earthly life, then this assists in capitalizing the true divine power within you.  Awaken Your Creative Spirit is an overview of what it means to have access to Divine assistance and how that plays a part in arousing the muse within you in order to bring your state of mind into a happier space.
"Awaken Your Creative Spirit" includes Awakening the True You, Spirit Is In Your Corner, Picking Up On Heavenly Input, The Great Outdoors, Be the Chief Executive of Your Life, Connect-Visualize-Create, You Are Creative!, Fire Up Your Inner Child, Assertiveness-Aggression-Passive Aggression, Improving Your State of Mind, Battling Illnesses, The Chakras, Channeling Creatively, Unleashing the Creative Spirit, and The Creative Spirit Power Works For Me.
Amazon
Barnes & Nobles
Apple iTunes
Google Play
Buy Now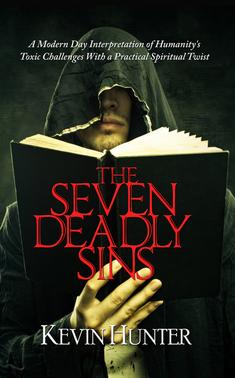 The Seven Deadly Sins
The Seven Deadly Sins is a pocket book that takes a look at the traditional sins in a practical way. The Seven Deadly Sins in today's language would be the Seven Toxic Challenges. Being aware of these toxic challenges are helpful since falling into a deadly sin creates a block from achieving greatness, finding peace, and picking up on the messages and guidance coming in from Heaven. The messages and guidance are intended to help guide you along your path.
You were born with an ego that expands as it enters the Earth's atmosphere. This ego causes you to struggle and have conflicts as it attempts to take over you and dominate your actions, thoughts, and feelings. When your ego runs recklessly it grows and expands into darkness. The dark ego is what prompts you to wrestle with challenges in this lifetime. These challenges were called sin during ancient times. The sins committed can delay you on your path and wreak havoc on your soul's innate system. This innate system is the higher self part of you that governs your life through a broader perspective.
The seven deadly sins were created in order to assist human souls in making sounder choices. They are challenges that all human souls wrestle with to one degree or another. When you're deeply absorbed in these toxic challenges, then it causes an array of issues and complications on your life path. These sins or challenges prevent the positive flow of energy and abundance in your life. They also play a hand at creating a block that stops up the communication line with your team on the Other Side. The sins or toxic challenges looked at include Pride, Envy, Greed, Lust, Gluttony, Wrath, and Sloth.
Amazon
Barnes & Nobles
Apple iTunes
Google Play
Buy Now

{A gift for a limited time: If you enjoy one of the three books, and leave a genuine positive review, then receive one of the other books for free! Send the link to your review to dudelit@gmail.com, along with the other book you would like, and your shipping address.  This offer good through the end of 2016.}
Posted in Angels, Dude Lit, Empowerment, Healing, Heaven, Inspirational, Kevin Hunter, Kevin Hunter Author Writer, Mediumship, Self-help, Spirit Guides, spirit team, Spirituality, Spirituality For Men, The Other Side, Warrior of Light, Well being, Wise One
Tags: Awaken Your Creative Spirit, Hay House, Ignite Your Inner Life Force, Kevin Hunter author, Kevin Hunter Author Writer, Kevin Hunter books, Spirit Guides and Angels, Spirit World, Spiritual books, The Seven Deadly Sins