Blog Archives
Add some additional Valentine's Day color into your life! 💫 Having accomplished quite a bit of jam-packed list of credits over the last two decades, one of the high things on my list is my unlimited interest in all things pertaining to love. 💞❣️💕 I'm a lifelong incurable romantic and love is the reason all are here in the end. Whether that's to give love, teach love, or live in love. 💓 With my love collection of books there's something for the whimsical lover, the spiritual lover, the practical dating lover, and the adult lover that can handle something that's been banned and re-issued more times than I can count by distributors for its strong adult content.
💐🌺🌸 👫👭👬 🌹🥀🌷
"Soul Mates and Twin Flames", "Twin Flame Soul Connections",
"Love Party of One", "Jagger's Revolution"
💕😍❤️💥😘😊💋
Available in paperback and e-book wherever books are sold or at the link below.
🙏✍️👨‍💻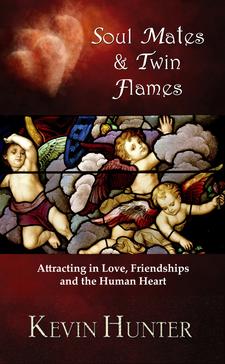 Soul Mates and Twin Flames
Attracting in Love, Friendships and the Human Heart
Everyone is interested in love and relationships whether they like to admit it or not. Even the most hardened human soul has fantasized about having a love interest or a partner in crime. One of the main reasons we are all here is to love and to learn how to love. This is not just in intimate relationships, but with everyone we come into contact with.
In, Soul Mates and Twin Flames, author Kevin Hunter touches on the topic of love and relationships by passing on some of the messages and guidance he has received from his own Guides and Angels on the topic. Included in this informational book are some of the basics on Soul Mates, Twin Flames, Dysfunctional Relationships, Reconnecting with an Ex, Karmic Relationships, Friendships, Loneliness, working with the Romance Angels, Dating, Relationships, and more!
Twin Flame Soul Connections
Recognizing the Split Apart, the Truths and Myths of Twin Flames, ​Soul Love Connections, Soul Mates, and Karmic Relationships
Twin Flames have a shared ongoing sentiment and quest from the moment they're a spark shooting out of God's love that explodes into a blinding white fire that breaks apart causing one to be two, until two become one again, separate and whole, and back around again. Looking into the eyes of your Twin Flame is like looking into the eyes of God, because to know love is to know God.
When one thinks of a Soul Mate or Twin Flame, they might equate it to a passionate romantic relationship where you're making love on a white sandy palm tree lined beach in paradise for the rest of your lives. This beautiful mythological notion has caused great turmoil in others who long for this person that fits the description of a lothario character in a romance novel. It is also an unrealistic and misguided interpretation of the Soul Mate or Twin Flame dynamic.
Twin Flame Soul Connections discusses and lists some of the various myths and truths surrounding the Twin Flames, and how to identify if you've come into contact with your Twin Flame, or if you know someone who has. The ultimate goal is not to find ones Twin Flame, but to awaken ones heart to love, and to work on becoming complete and whole as an individual soul through spiritual self-mastery, life lessons, growth, and raising your consciousness. Your soul's life was born out of love and will die right back into that love.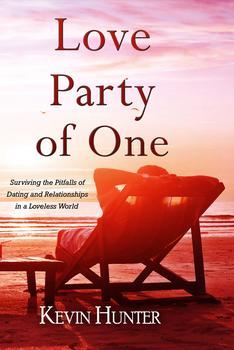 Love Party of One
Surviving the Pitfalls of Dating and Relationships in a Loveless World

Love Party of One examines the current love and dating world and what to expect for anyone struggling with being single and longing for love.   Author, Kevin Hunter, is a love expert in love with all things surrounding the word love since he arrived on this planet. He has been out in the field studying the human condition since he was a teenager.  This has included conducting social experiments as well as diving head first into the areas of love and dating in his own personal life.
One of the ways of surviving modern day dating and relationships in a loveless world is by armoring yourself with knowledge. This includes knowledge over the way things currently are. You've went to psychic readers, you've cast spells, you put yourself out there, did the vision boards, the crystal meditations, and other love rituals presented to you, but you still find you're desperately wishing the person of your dreams was here already. You grow cynical as if it will never happen and that you just have to accept the fact that perhaps it's not in the cards. Dating is a battlefield, be prepared to get dirty.
Kevin Hunter is best known for his endless array of spiritually based books.  In Love Party of One, he answers some of the practical issues that readers posed regarding their personal conflicts in the current dating market. This is a non-denominational book with some light spiritual slang for anyone struggling as a single person in a loveless world. This is regardless of age, background, or whether you are straight, bi, gay, male, or female. The dating market is an equal opportunity killer and no soul is exempt from the challenges they face when it comes to love.
Some of the topics discussed surround technological dating, falling in love with someone you've never met, codependency, exes, communicating, compromise, sex, marriage, monogamy vs. adultery, ageism, and more!
Jagger's Revolution
Jagger's Revolution is a trashy beach read love story about a strong, bohemian, beach thug with hard coded rules of etiquette on how love and relationships should be.  Jagger's fight is one where he endures one bad date after another, while wondering if he'll ever meet the right soul mate.  Throughout his dating dalliances and crushing love frustrations, he wrestles with the kind of gushing love crush one has as a teenager over Garth, the new lifeguard from Australia. He wrestles with his tormented feelings over this immediate silent connection with him and longs to get close.  Jagger is surrounded and lifted up by his trustworthy brother in arms. They're also known as his buddies for life who temper his unruly ego and aggression while giving him undying loyalty. There's the preppy book smart Troy, the high-powered executive Russell, and the sex loving and relationship hating Slade.  Jagger's Revolution contains hard biting dating wisdom and philosophical ideals threaded throughout the essays. This is surrounded by true accounts of being slighted by love while craving that perfect soul mate partnership.
Empowering, inspirational, enlightening, metaphysical, self-help
books available in paperback and e-book wherever books are sold.