Category Archives:
Spirit Guides
Clairvoyance is the psychic sense of seeing. Divine messages filter in through your third eye, which is a spiritual eye located between your two physical eyes, but slightly raised above it.
As a Clairvoyant, you receive visuals, symbols and signs out of this third eye. It often plays like a movie being projected on a screen. The visuals and symbols being shown often need to be decoded by you. For example seeing a car accident taking place through this eye doesn't necessarily mean there is a car accident going to happen. You have to be able to decode the symbolism on a deeper level. This is one of the many reasons that psychic development work requires a great deal of depth. The furthest reaches are attained through soul growth work.
Clairvoyants also tend to have vivid dreams. Sometimes what's seen can feel like it's happening in real time that it can take a moment to discern the difference between reality and a premonition. And as with anything psychic related, the obvious sign that something was a forecast is if it ends up coming true.

A Beginner's Guide to the
Four Psychic Clair Senses

Clairvoyance, Clairaudience,
Claircognizance, Clairsentience
Many believe psychic gifts are bestowed upon select chosen ones, while others don't believe in the craft at all. The reality is every soul is born with heightened psychic gifts and capabilities, but somewhere along the way those senses have dimmed. All are capable of being a conduit with the other side, including those closed off and blocked to it.

The Four Psychic Clair Senses illustrates what the core senses are, examples of how the author picks up on messages, how you can recognize the guidance, and other fun metaphysical psychic stuff. You are a walking divination tool that allows you to communicate with Spirit. The clairs enable you to receive heavenly messages, guidance, and information that positively assist you or another along your Earthly journey. Read about the four core clairs in order to pinpoint what best describes you and how to have a better understanding of what they are and how they work for you.
Available in paperback and e-book
wherever books are sold including:
🧙‍♂️✨🧙‍♂️✨🧙‍♂️✨🧙‍♂️✨🧙‍♂️✨🧙‍♂️✨🧙‍♂️✨🧙‍♂️✨🧙‍♂️✨🧙‍♂️✨🧙‍♂️✨🧙‍♂️✨🧙‍♂️✨🧙‍♂️✨🧙‍♂️✨
The best selling author of dozens of books
in the areas of metaphysical, philosophical,
inspirational, spiritual and enlightenment
for your soul's evolving journey.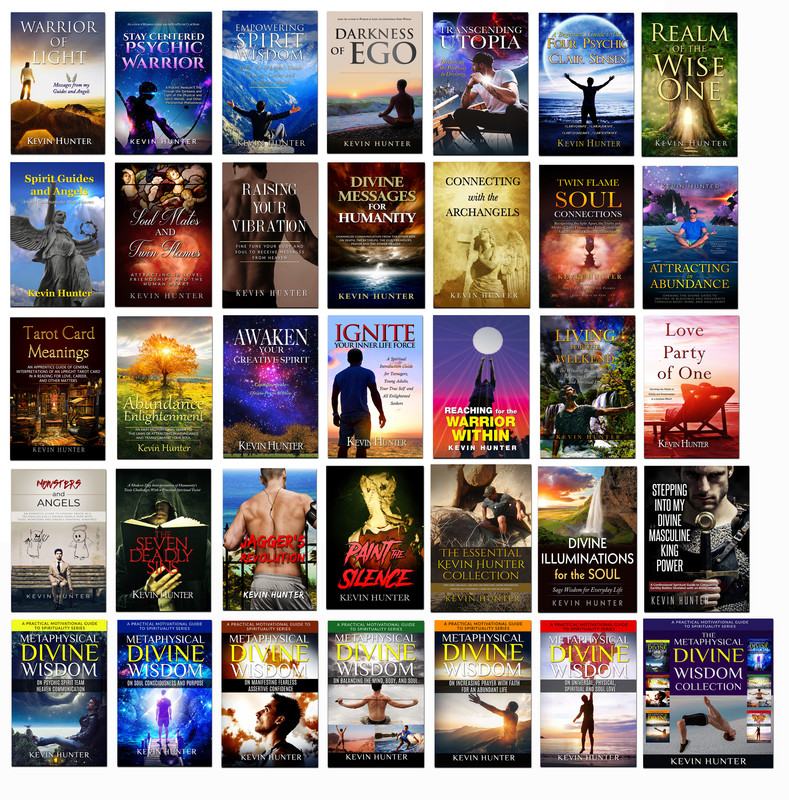 Posted in Empowerment, Heaven, Inspirational, Kevin Hunter, Kevin Hunter Author Writer, Mediumship, Self-help, Spirit Guides, Spirituality, Spirituality For Men, Tarot, The Other Side, Warrior of Light, Well being, Wise One
Tags: Clairvoyance, Four Psychic Clair Senses, Kevin Hunter, Kevin Hunter books, Psychic sense of seeing